With its own honeybee colony, MSU Culinary Services furthers university's 'farm-to-campus' efforts
Tuesday Jun. 4th, 2019

Montana State University's Culinary Services is buzzing with plans to produce honey from its own honeybee colony.
MSU already buys honey as well as meat, vegetables, fruits and other ingredients directly from more than 100 Montana producers, according to Kara Landolfi, MSU's Farm to Campus coordinator. Those include purchases of beef, pork, lamb and goat from MSU programs.
In May, the bees were released at a new wooden hive – painted gold in honor of MSU – on the university's horticulture farm just west of campus. The bees came from the Montana Honey Bee Company in Bozeman, and the hive came from the Polson Honey Bee Company.
A few thousand bees were delivered, said Jill Flores, MSU executive chef, and more are expected to hatch. A typical colony usually has 30,000 to 60,000 bees, she said.
Flores, Landolfi and Culinary Services Director Richard Huffman will tend the hive, with assistance from David Baumbauer, manager of MSU's Plant Growth Center. Flores said it's uncertain how much honey the bees will produce at first. She anticipates the honey that is produced will be used in the special farm-to-campus themed dinners Culinary Services hosts on campus, such as the first dinner of the fall semester, which is a picnic on the Romney Oval. Landolfi said the university will continue to purchase honey from local producers, as well.
One reason Culinary Services opted to purchase the hive was for the educational opportunities it will enable, Flores said. Culinary Services has created educational posters about honeybees to share with students and engaged students via social media to name the queen bee. Out of more than 400 suggestions, Queen Freddie MercurBee was the winning name.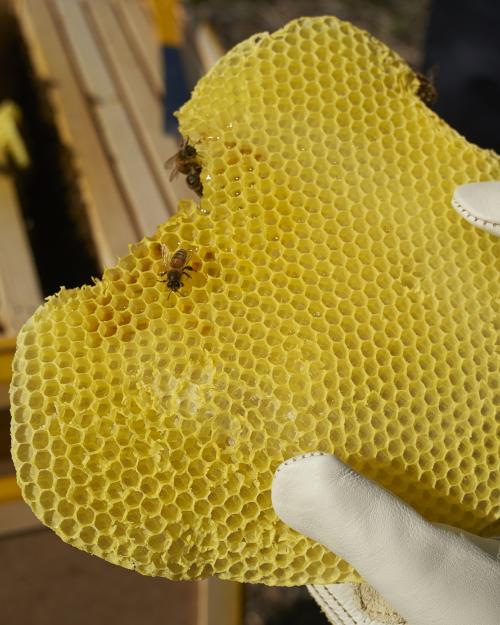 Montana State University Culinary Services staff tend to a beehive at the MSU Pollinator Garden Thursday, May 30, 2019 in Bozeman, Mont. MSU photo by Kelly Gorham.
"It will be a good education tool not only for students but for staff, as well," she said. "When we harvest honey, we'll have chefs be part of that. It's good to get our chefs out to the farm to see where food is being produced."
The university has additional links to honeybees. To support healthy populations of bees and other pollinators, MSU recently joined a nationwide initiative certifying the university's pollinator-friendly practices and programs, an effort that led to its designation as a Bee Campus USA by the international nonprofit Xerces Society for Invertebrate Conservation. MSU was the first Montana campus to qualify and enroll; the program also includes 58 other campuses nationwide.
MSU is also home to the Pollinator Health Center, which carries out research that aims to improve pollinator health, mitigate pollinator losses and engage with learners of all ages at educational events. The center brings together faculty from disciplines across MSU, as well as expertise from federal and state agencies. More information about the center is available at montana.edu/pollinators.
Landolfi said the honeybees are an extension of edible landscaping that is present on campus and used by Culinary Services. Working in collaboration with MSU Facilities Services, Culinary Services harvests fruit, herbs and edible flowers that grow on the MSU campus. Those edibles include apples, crabapples, cedar, parsley, chives, nasturtiums and violets, she said.
"Facilities Services is proud to support our sister department's farm-to-campus initiative," said E.J. Hook, director of Facilities Services. "As a school with deep agriculture roots, it only makes sense to share the bounty we currently grow on campus. It also serves as an example that landscapes can serve multiple purposes – in this case aesthetics and edible food."
In addition, Facilities Services and Culinary Services plan to partner later this summer to grow food – including cherry tomatoes – in planters outside Rendezvous Dining Pavilion, Flores said.
MSU Culinary Services provides more than 12,000 meals in its dining facilities each day during the academic year, Flores said. More information is available at montana.edu/culinaryservices/.