Author Event - Janet Fox
Join us to learn more about everyones favorite . . . Super-Volcano? Local Author Janet Fox shares her first picture book Volcano Dreams, illustrated by Marlo Garnsworthy. Lyrical prose and luminous paintings lead readers on a tour of the Yellowstone supervolcano, from the wolves, elk, bears, and mountain goats that roam its surface to the fiery depths of its magma chamber. Volcano Dreams knits together the vibrancy of the Yellowstone ecosystem with its explosive history, placing the everyday lives of its creatures within the context of geological time. Janet Fox's poetic text takes us to the root of it all – the 'sleeping giant' of magma responsible for the Yellowstone landscape – and Marlo Garnsworthy's evocative paintings capture the awe of natural forces at work in our nation's oldest national park. This great new book is great for inquisitive readers aged 5-9.
Janet lives in Montana, surrounded by mountains and in the company of my husband and our rambunctious yellow lab. I hike, garden, knit, travel, sing (yes, I can sing, and thought I was going to go pro at one time), but most of the time you'll find me doing what I love best: writing.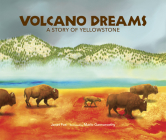 $17.95
ISBN: 9780988330382
Availability: On Our Shelves Now
Published: Web of Life Children's Books - September 25th, 2018
Cost: FREE
---
Time(s)
This event is over.
Sat. Oct. 6, 2018 2-3pm
---
More Events Like This
Location
Country Bookshelf
28 W. Main Street
Bozeman, MT 59715